Fan Fiction: Book's Legacy (aka Watching River)
Title: Book's Legacy
Author: Jedi Buttercup
Disclaimer: The words are mine; the worlds are not. I claim nothing but the plot.
Rating: PG-13/R
Summary: Mal recieves a mysterious package, leading the crew of Serenity on a voyage of discovery. Into every generation....
Spoilers: Set post-Serenity (2005)
Notes: This story is set entirely in the Firefly 'verse, but contains Buffy/Fray-verse crossover elements. Much of the Chinese slang used herein came from the Firefly-Serenity Chinese Pinyinary, and for dates I consulted Edgar Governo's Firefly Timeline.
---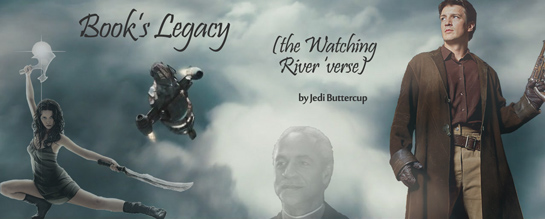 ---
Chapter Index:
(WIP)
Go to: Top | Long Fanfic (WIP) | Fan Fiction Index
---
© 2010 Jedi Buttercup.